After a long day at work, my four year old meets me at the door with the all too familiar question, "Daddy, can we go play?" My wife usually suggests getting out and taking a walk. Our eight month old is simply thrilled with life. Whatever decision we make will be fine with him. When you're young parents, life moves fast. Your children are growing up before your eyes, and you want to live in a place that offers the most for them.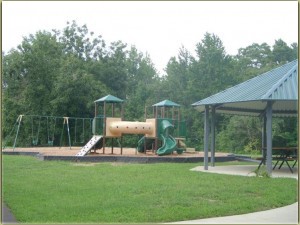 Desoto County is a wonderful place to live and offers tons of family friendly options for those lazy afternoons and weekends! Take for instance the Lee Summit Park located at 1270 Monteith in Hernando, MS. This park offers just over 4600 feet of walking trail and a play area for 2-5 year old children.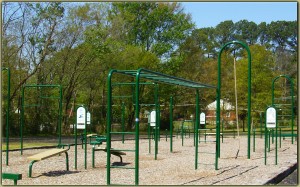 If you're the athletic type, the Hernando Sports & Fitness Park may be more appealing to you. This park offers a ¼ mile track and a large variety of exercise equipment, ranging from pull-up bars to a rope climb! For more information on Hernando Parks, visit www.hernandorec.com (Pictures and information were gathered from www.hernandorec.com)
If you're looking for a child-friendly place to eat out, consider Chuck E Cheese's located at 7178 Desoto Cove in Horn Lake, MS. It's definitely not the place for a quiet dinner, but with all the pizza, arcades, and prizes, you're sure to rack up some points as a parent! It's also a great place for a child's birthday party!
When all else fails, you can't beat a good family movie. Southaven's Desoto Towne Cinema is conveniently located at 7130 Malco Boulevard (just 1 mile from I-55) or check out the new Olive Branch Cinema located at 6430 Goodman Rd. Both cinemas are located near popular restaurants!
For the "outdoorsy" family, consider the Dubb Patton Campground located at 3905 Arkabutla Dam Rd. or Hernando Point at the end of Wheeler Rd. These Arkabutla Lake locations are perfect for boating, fishing, swimming, and picnics. For more information on Arkabutla Lake (and the other many recreational activities Desoto County has to offer), visit www.sodesoto.com.
I've been a resident of Desoto County my entire life. It's a wonderful place to live and a wonderful place to raise children! If you're looking to build in the Desoto County area, we would love to work with you! Visit www.gustafsonproperties.com and contact us today!